Righto. Long blogging absence again, vague reasons given. Promises to be better. Good. That part's out of the way.
The kitchen has been calling with the sweet siren sounds of fresh CSA produce, gloomy SF summer days and hostessing fun. This past week I've drug out both the food processer and stand mixer - letting them see the light of day after giving them a thorough dusting off. You know it's a sad day when you have to dust off your favorite baking equipment. But dust them off I did and my kitchen has been the better for it.
Here's a quick round-up of what's been going on since I've been back in my apron:
Skinny Zucchini Banana Chocolate Chip Muffins
via Ambitious Kitchen
Verdict -
Whomp, whomp. They still taste pretty healthy.
Oatmeal Decorating Cookies
by Haniela
Verdict -
They cut out beautifully and stayed together perfectly during baking. However, I had in mind to use them in a deconstructed sundae version of an It's It and they just didn't pack the right punch. I might try some nutmeg next time. The idea is just so great - warm oatmeal cookie, coffee icecream and magic shell chocolate. My magic shell was old and hard and wouldn't even come out of the bottle. So it was a double failure dessert that at least the ice cream could redeem.
Juiciest Hamburgers Ever
by All Recipes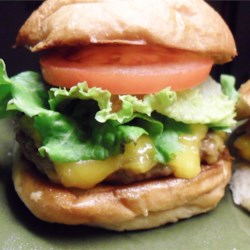 Verdict -
I subbed so many parts of this recipe, I don't know that you could actually say I used it. Besides it striking me as uber gross, I didn't have any evaporated milk on hand anyways. I used Dijon mustard instead of Worchester sauce and I eyeballed all the ingredients. The key parts of the recipe to remember are using a binder (egg) and flavoring (garlic and onion). I got some great compliments on them and loved the way my burger bar idea turned out. Grill up a bunch of burgers and chicken then lay it all out buffet style with mushrooms, onions, jalapenos, bacon, lettuce, tomato, onion, mustard, ketchup, mayo, and ranch. Everybody gets a customized, gourmet burger!
What have you been cooking up?