Excelsior is a southern neighborhood of San Francisco with good values relative to the city. Good value is also a kind of code for needing some TLC. I chose a house for the redesign this week because I think the interior doesn't currently reflect the style of the exterior. The interior is in good shape and maintenance, but not my taste. As you know by now, I'm a fan of keeping the spirit of the house alive in the decor as well.
The exterior is 70s-licious in all its
boxy mustard glory
. I might add some subtle changes like painting the brick planter and the house numbers white for a little more contrast.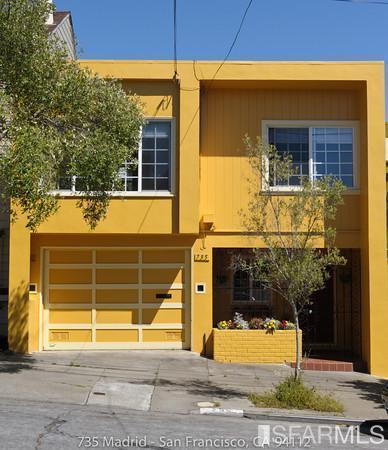 And then we have the interior. Someone obviously loved some old world style. I just don't feel it's reflective of the house's character. It's a bit cluttery and overworked in my opinion.
If I were to redo it, I would go with a look more in tune with a retro color scheme and modern lines. Something more with
this flavor
from a home tour featured on Belle Maison:
To achieve this look I think the following pieces would introduce the right color palette while still being fun and minimalistc:
Clockwise from Top L:
Home Depot -
Martha Steward 3-light Vanity Fixture
Pool Pony Design -
Aquarium Print
Home Decorators -
Parsons Wall Mirror
Joss & Main -
Benevuto Vase Decor
Joss & Main -
Faux Spider Mum Arrangement
Pool Pony Design -
Blue Love Birds
Cotton Bath Towels -
Two Turkish Towels, Mustard and Turquoise
Joss & Main -
Elephant Statue